School is completely funded by Afriflora Sher
The Afriflora Sher effect is expressed in the positive efforts for the community in the Ziway region. From the moment Afriflora Sher established in Ziway, the people moved to Ziway for work. Where there was only bare ground 10 years ago, there is now a large private school with over 5400 students. And it is still expanding. The school is completely funded by Afriflora Sher
"Learning to read, write and count is an investment that lasts a lifetime!"
The Sher School
The Sher School is known for it's quality of education, facilities and teachers. Children of employees at Afriflora Sher and children of the community are allowed to this school. For Afriflora Sher this is her investment in the region. Therefore the parents do not have to pay contribution. A big difference with other schools in the region. The parental contribution is often too high, the average population can not afford to pay for it.
At the Sher school there are about 40 children in a classroom. The classes consist of a mix of Muslim, Protestant, Catholic, Christian and Orthodox children. Religion doesn't matter at the Sher School. The parents will teach them at home, it is not a subject at school. Boys and girls are mixed in classes. The girls will enter the classroom first, so the boys are taught to respect women from an early age.
Half of the places are for children of the employees at Afriflora Sher. The other half is for other kids from Ziway. When an employee stops working for Sher, it does not affect the children in the School. They can finish the school just like the other kids.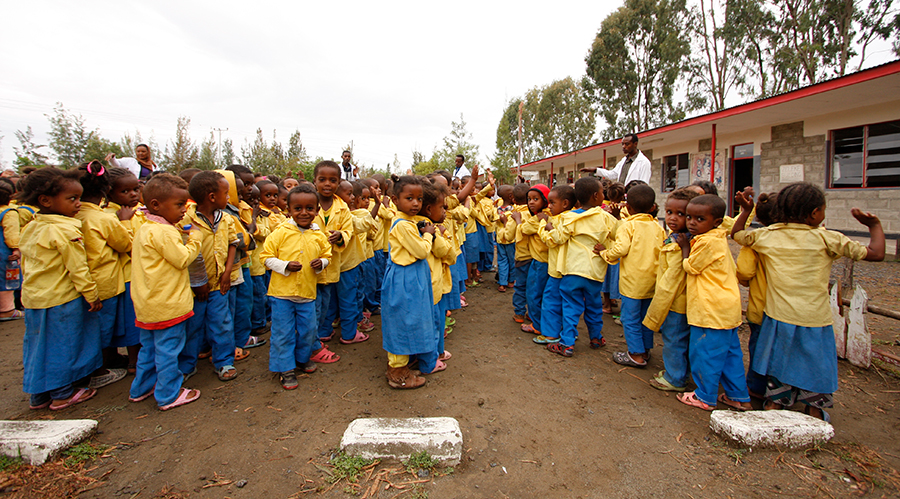 "We have the best facilities, the best quality of education and the best teachers. And the parents don't have to pay, so this is the best opportunity in the region. That's why there is no drop out, they don't want to miss the opportunity to give their children a good future. Once they lose this chance it does not come back."
– Kidame Mariam (Head of the school, graduated in Addis Abeba)

Afriflora Sher brings a foundation for a better future
With the founding and funding of the school, Afriflora Sher not only aims to provide education and development to the children of employees. She also wants to stimulate the long-term development of the region. This way there is a foundation for children to get a better future.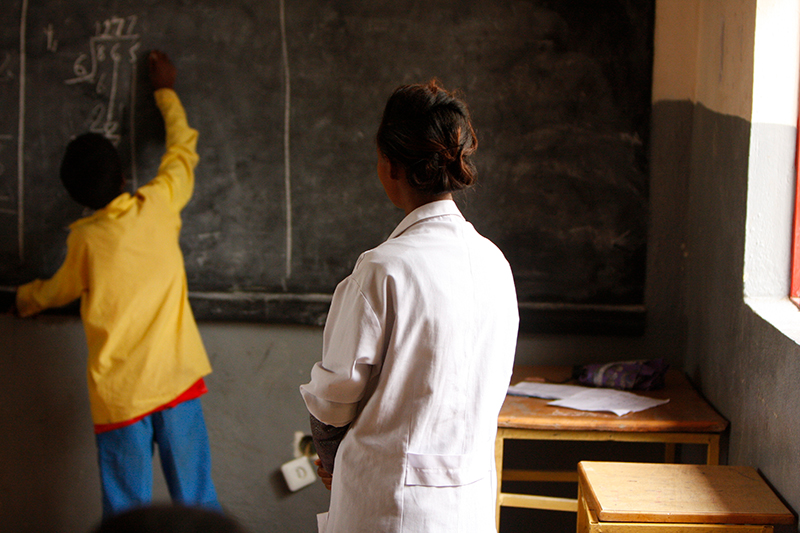 Quality of education
All students receive free education. For the toddlers Afriflora Sher provides free food and drinks. 2000 children receive a warm meal everyday at school.
The government determines what the children should learn. At the Sher School the government's curriculum is strictly followed. However, she does not determine how the children should learn this. The children are being taught according to the English standards and their own languages: Amharic & Oromo. Afriflora Sher has chosen this approach to bring high-quality education to Ziway. This approach has proven itself the last few years.
Last year the school received an award from the government. The Sher School was chosen as the best school in all regions. In terms of quality, facilities and because of the number of students per class. The schools were all compared to these points. This survey is done by independent government supervisors.

"The national test scores of our school are better than the government- and public schools because we give education of higher quality. Every necessary facility is here in the Sher School. Some other schools ve for example not enough teachers. We do have enough teachers, and good teachers. All of our teachers are graduated from universities and come from different areas all over the country "
– Kidame Mariam